Hoarding Photo Frames 2
2.0
Photo Frame App – Get Yourself Featured as a Star
Do you want to see your photos on hoarding boards? Would you like your face gracing an advertisement board? If yes, then this photo frame app is the ideal choice for you. Hoarding Photo Frames 2 is a cool app which gives you the chance to have your photos plastered on large hoardings, making you an instant star. It would fulfill your wish of being featured on an advertising hoarding for the whole world to see. You would just have to select the photos that you want to be advertised on the hoardings. After that, you need to pick out the photo frame that you like from the available options. Voila! You will have your face featured prominently on a big advertising board.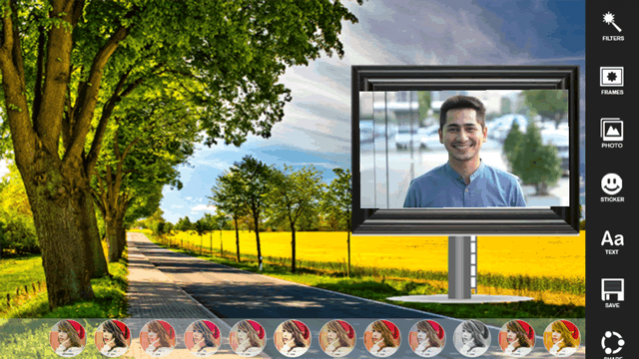 Hoarding Photo Frames 2 has a simple user interface which is aided by a user-friendly design and layout. The combination of these two features ensures that using this photo frame app isn't that difficult. You will not encounter any issues in utilizing the various options that this app has to offer you. Upon launching the app, you would be asked to upload a photo. You can do this either by snapping a photo using your phone's camera or by choosing a photo from your phone's gallery. When capturing a new photo, you can use both the front and the back camera of the phone. Do keep in mind that most of the photo frames in this app are rectangular in shape. So, a photo taken in landscape mode is more suitable for them.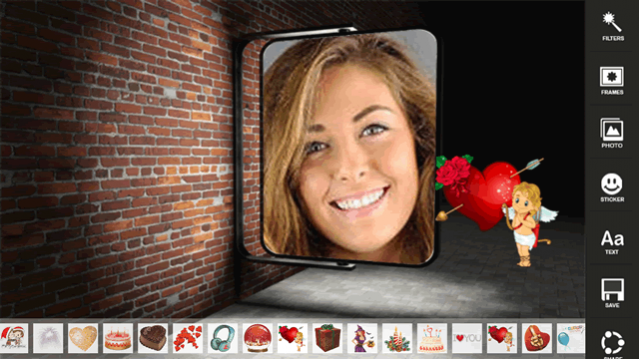 This photo frame app offers a huge library of photo frames. Each one is unique and different from the others. However, a similar aspect in all of them is that they are large and depict the photo in the form of a hoarding board. You can select the photo frame after picking the photo you want to place in it. When you have found a suitable photo frame, you can then move on to fitting it in place. This might be a little trickier especially if the photo has been captured in portrait mode. You will need to zoom the photo a little and might have to crop some of it out in order to fit it inside the photo frame. However, if the photo is in landscape mode, it would fit right in.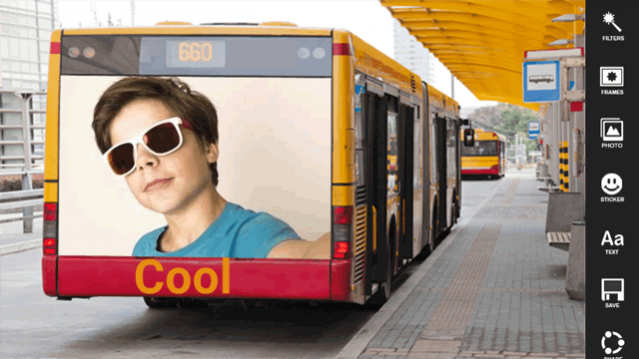 Hoarding Photo Frames 2 doesn't just allow you to place your photos inside beautiful photo frames. It also lets you add other effects to the photo to personalize it further. You will find these effects lined up on the right-hand side of the photo-editing screen. These effects include filters, stickers and text. You have a large variety of filters available in this photo frame app. You can choose them to enhance the look of the photo. Moreover, there is a nice collection of stickers that can be used in the photos as well. If you want to add some text to the photos, you can do so by using the text tool. Once you are satisfied with the look of the photo, you can share it with other people on social media.
Features:
Simple user interface
User-friendly design and layout
Lots of different photo frames on offer
Take photos and place them in the frame
Choose photos from gallery
Lots of different filters to choose from
Add text to your photos to personalize them
A large collection of stickers available
Share your photos with others on social media
Conclusion:
Hoarding Photo Frames 2 is an app which is ideal for people who aspire to be a big star and have their photos featured on ads. It lets them place their photos on a variety of different frames which are giant hoardings which make them feel like celebrities. It is a nice photo frame app and you should definitely try it out.
---
Add a review
Tell us your experience with
Hoarding Photo Frames 2
2.0
RELATED PROGRAMS
Our Recommendations
---
---
---
---